Guided Tivoli Tours: Villa Adriana, Villa D'Este and Villa Gregoriana
Villa Adriana, Villa d'Este, Villa Gregoriana, Tivoli historic center
BOOK NOW
At just 30 km from Rome, Tivoli is a beautiful place to explore, getting lost among the ruins of Villa Adriana with its temples, theaters and statues, before being captivated by the romantic Villa d'Este, famous for its spectacular Renaissance gardens with hundreds of waterfalls, ponds and fountains, and by the beautiful Villa Gregoriana and the historic center of Tivoli.
Tour pricing
Morning or afternoons outside Rome city limits, max 3 hrs
   130 euros one single participant (2h)
   160 euros couple / family with children (3h)
   180 euros groups max 25 participants (3h) + 10 euro / pax after the 25th participant (radio included)
   Conventions and discounts for schools
Tour frequency and duration
   Available every day
   Tour duration: 3 hrs (short tour) 
   Optional tour start time: 09am – 2pm – 6pm (evening tour, seasonal, pending tickets availabilities)
   Meeting Point: right outside Tivoli's train station, in Piazza Garibaldi
Major attractions
Villa Adriana
Villa d'Este
Villa Gregoriana
Tivoli historic center
Tour info
Wear comfortable clothes and shoes
Bring a bottle of water about 1.5 liters per person
Bring a hat and sunscreen (during the summer season)
It is possible to buy food on site for the lunch break
More details about the guided tour
If you are tired of the chaos of the city and are looking for a bit of tranquility, pure air and art, then the Tivoli Tour to Villa Adriana, Villa d'Este and Villa Gregoriana is for you.
You can choose a short 3-hour tour and follow me to discover the ruins of the grandiose Villa of the emperor Hadrian, who chose Tivoli as his official residence, far from the chaos of Rome; it was here that he wanted to experience his interests in the fields of architecture, literature and astronomy.
Discover with me the ruins of this villa-city which originally had to have an extension of more than 200 hectares, consisting of gardens, palaces, theaters, baths but also buildings for guests and all the slaves, military personnel and servants who worked there, which must have exceeded 1,000 unit.
If, on the other hand, you are more attracted to Renaissance villas, then for you there is one of the most famous villas in Italy, Villa d'Este. Discover with me its gardens and fountains that recall a garden that create the perfect mix between the Italian garden, composed of hedges and trees cut out in geometric shapes and forming labyrinths, and the French garden, characterized by water games and fountains.
If you want to extend your visit and want to find out more about Tivoli and its villas, you can extend your visit to 6 hours and fully enjoy the beauty of this city, choosing to dedicate a part of your day to visit the characteristic historical center of Tivoli and another suggestive villa: Villa Gregoriana, a spectacular romantic park located on the remains of the ancient acropolis of Tibur (today's Tivoli).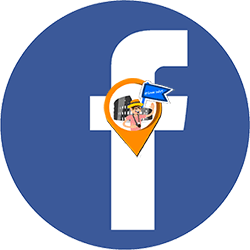 Following 
our Facebook page
not only is the fastest way of getting in touch, it also allows to follow all the Rome Stories we regularly publish and share.
You will also find plenty of travel tips for a better exploration of the Eternal City, and recommendations from those who have already experienced our guided tours and experiences in and around Rome! Don't forget to leave a good review!